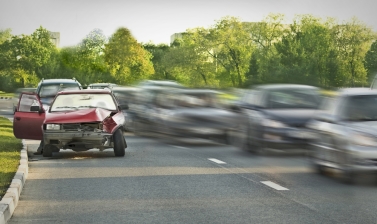 San Diego's Most Congested Freeways
Posted By The McClellan Law Firm
||
Feb 26, 2014
Traffic congestion in Southern California is a way of life. Every day throughout the region, thousands upon thousands of vehicles share the roadways and freeways, often buckled in severe gridlock. Naturally, roadway congestion increases the risk for auto accidents, and for many commuters across San Diego, car accidents during the morning and evening commutes are a common, nearly everyday sight. In these heavily congested conditions, the risks of serious accidents – including multi-vehicle collisions and pile-ups – also increase.
In an effort to understand just how severe traffic congestion has become, researchers from U-
T San Diego conducted an analysis of San Diego County's Top 10 worst freeway bottlenecks. A bottleneck is a condition that exists when the performance of a system (in this case a freeway) is limited by a limited number of resources or components (such as the number of lanes). The simple fact is that freeways are just not big enough to host increasing amounts of traffic, especially in a culture where driving is a near necessity.
Worst Freeway Bottlenecks in San Diego
According to the study, the Clairemont Mesa 805 crunch was chosen as the region's worst freeway bottleneck, as it played host to severe gridlock throughout the year, as well as a high number of collisions, injuries, and fatalities. The Barham Drive backup on State Route 78 in San Marcos and La Jolla's stretch of 805 at Nobel drive have historically been very congested freeways, but fell down this year's list. Many of San Diego's worst bottlenecks were concentrated around Interstates 15 and 5, as well and Routes 163, 56, and 52.
Congestion on our roadways places everyone at increased risks. These risks can be quickly elevated when drivers fail to uphold their duty to drive responsibly. Distracted driving, for example, can be incredibly dangerous on freeways with stop and go traffic. In order to address the problem of congestion and to protect public safety, a number of freeway expansions have been proposed. In 2014 alone, Caltrans will be building more than $730 million in new San Diego freeway and transit projects.
Representing Auto Accident Victims
While it may be some time before any significant impact is seen – or until new innovative ideas are proposed – traffic congestion seems to be a Southern California staple that will continue for the foreseeable future. Those who have been injured on these crowded, dangerous freeways may have a right to hold the at-fault driver accountable and liable for the damages they caused. At The McClellan Law Firm, our San Diego car accident attorneys provide personalized, experienced representation to victims injured in all types of accidents, including mutli-vehicle pile ups and freeway collisions.
To learn more about your rights after an auto accident and how our firm can be of assistance, call 619-215-1488 for a FREE consultation.
Blog Home