Auto Accidents Caused By Defective & Dangerous Roads
Were You Injured in an Accident Caused By Poor Road, Highway, or Freeway Design in San Diego, CA?
More than 30,000 people are killed and millions more are injured in car accidents every single year. One of the leading causes of these accidents is road defects. According to statistics, this issue causes an estimated 13,500 crashes annually. This includes the design of the road, issues with road signs and signals, obstructed views, and more.
State agencies and local municipalities are obligated to keep roads maintained and functional. If a dangerous or defective road caused your accident, you may be able to seek compensation from one of these parties. The McClellan Law Firm has experience handling all types of auto accident claims; let us use this experience to your advantage.
Get in touch with The McClellan Law Firm today at (619) 215-1488 to discuss your case with our road defect accident lawyers in San Diego, CA.
Examples of Common Road Defects
A road is "defective" when its design endangers safe drivers. For example, a road should give consistent messages to drivers. Traffic signs should warn drivers of impending hazards and provide rules for safe driving, such as speed limits.
An improperly marked road might cause a motorist to drive unsafely by no fault of his or her own. In short, an unsafe road is violates its purpose: to provide a safe means for transportation. A road should facilitate safe driving in these ways:
Clearly marked signs with consistent messages
Avoid "surprises," such as an unexpected stop sign
Warn drivers of any potential risks or hazards
Keep motorists informed of unfamiliar conditions
Guide drivers through difficult passages
A few examples of dangerous road defects include:
Insufficient shoulders
Missing signals, signs, or guardrails
Overgrown roadside trees or shrubs
Weak bridges and other design elements, including overpasses
Construction zones that are not properly marked off or partitioned
Poorly designed intersections, on-ramps, off-ramps, and curves
Railroad crossings that are not properly protected or marked
Distressed pavement, exemplified by potholes, serious cracks, rough patches, and road edge drop-offs
Wrong-Way Crashes
Some of the most devastating accidents caused by poor road design are head-on collisions caused by drivers traveling the wrong way on the road. In a Highway Special Investigation Report (PDF) put together by the National Transportation Safety Board (NTSB) that looked into the causes of deadly wrong-way driving crashes, it was found that one of the leading causes of these types of accidents was drivers entering exit ramps.
While driver-related choices like driving while under the influence of drugs or alcohol played a role in entering the wrong ramp, poor signage and poor lighting around these signs played a notable factor. The NTSB concluded that ensuring that clear signage, roadway markings and a way to see these indicators at in the dark were key factors that could help limit the number of wrong-way crashes that occur.
The NTSB also looked the designs of ramps and interchanges and found that the majority of states used one of three designs: full diamond, full cloverleaf, and partial cloverleaf.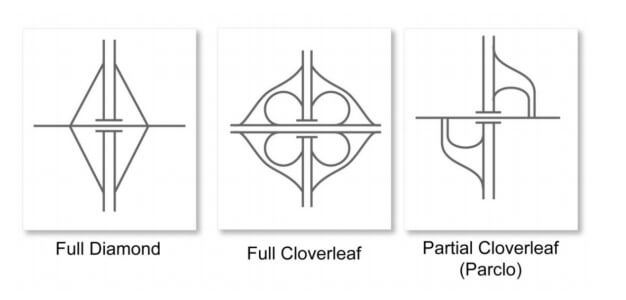 Images provided by the NTSB's Highway Special Investigation Report.
Through their investigation, researchers noted that:
Full cloverleaf ramps had the lowest rate of wrong-way entries, while left-hand exit ramps had the highest rate.
Drivers are twice as likely to enter the wrong way on partial interchanges compared to full interchanges.
Exit ramps that end at two-way streets have a high rate of wrong-way entries.
Drivers are more likely to drive the wrong direction at interchanges that have short sight distances leading up to decision points.
Drivers are more likely to enter exit ramps with rounded corners than exit ramps with sharp corners due to the fact that it is easier for drivers to recognize the changing road when there is a noticeable turn rather than a more gradual change.
Hire a San Diego Law Firm You Can Trust
At The McClellan Law Firm, our San Diego defective road attorneys remain committed to providing each client with the knowledgeable legal representation required in their time of need. We have secured more than 140 verdicts and settlements in excess of $1 million each, and will continue to fight to achieve the outcome our clients deserve.
Give us a call at (619) 215-1488 to discuss your case with a member of our firm, or request a free consultation today by filling out our online form.