The McClellan Law Firm Named Tier 1 Metro "Best Law Firm" in 3 Practice Areas by U.S. News – Best Lawyers® 2020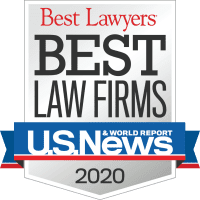 At The McClellan Law Firm in San Diego, we take our role as personal injury and business litigation attorneys seriously. We know that our clients come to us in times of need and difficulty. To set their minds at ease and do them justice, we always put our all into every case and act as if we were representing ourselves when matters are taken to litigation.
In recent recognition of our dedication to legal excellence, U.S. News – Best Lawyers® has named The McClellan Law Firm as a Tier 1 Metropolitan "Best Law Firm" in 2020 for three practice areas! This is a prestigious organization that recognizes only a slim percentage of all law firms each year for truly outstanding legal services and dedication to client satisfaction.
We have been officially recognized as:
San Diego Metropolitan Tier 1 in Commercial Litigation
San Diego Metropolitan Tier 1 in Personal Injury Litigation – Plaintiffs
San Diego Metropolitan Tier 1 in Product Liability Litigation – Plaintiffs
To become "Best Law Firms" ranked, a law firm must have at least one attorney who is currently named in U.S. News – Best Lawyers®. Firms that may be eligible for selection are mailed a submissions packet from the organization, which is returned with further details and relevant information about the law firm. U.S. News – Best Lawyers® reviews the applicants, makes selections, and organizes them into tiers and separates them into either Metro or National rankings.

To learn more about our selection, you can click here to view a press release from our law firm.

Posted By

The McClellan Law Firm

Categories: