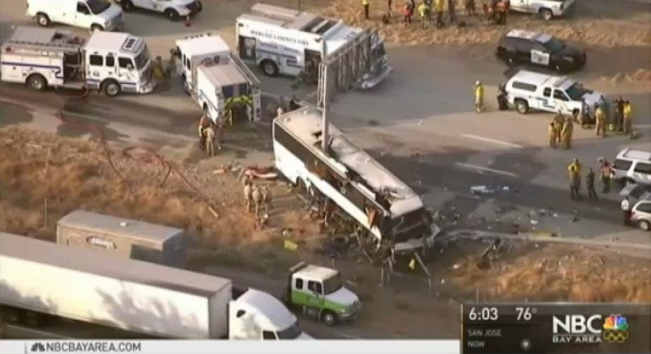 California Tour Bus Crash Leaves At Least Five Dead
Posted By The McClellan Law Firm
||
Aug 8, 2016
A tour bus carrying 30 people crashed into a Central California highway sign early Tuesday, August 2, killing at least five people.
The California Highway Patrol (CHP) reported that the bus crashed at about 3:25 a.m. on Highway 99 in Merced County. According to CHP Officer Moises Onsurez, after the bus hit the sign, the pole ripped through the tour bus, severely injuring the driver. Six passengers required an airlift, and were taken to various hospitals in the area for treatment.
While the cause of the crash has not yet been determined, the number one cause of tour bus and motorcoach crashes is driver fatigue. According to the U.S. Department of Transportation's "Motorcoach Safety Action Plan" (pdf download of the report can be found here), 37 percent of all motorcoach crashes were caused by driver fatigue, along with 36 percent of all related fatalities.
Jackie Speier, a Democrat and U.S. Representative for California's 14th district introduced 'H.R.5585 - Driver Fatigue Prevention Act' to the 114th Congress on June 24 of this year. The bill[1] intends:
"To amend the Fair Labor Standards Act of 1938 to provide that over-the-road bus drivers are covered under the maximum hours requirements."
If this legislation is passed, drivers will be paid overtime wages for any hours worked over 40 hours per week.
An identical bill, 'S.2322 - Driver Fatigue Prevention Act' was introduced to the Senate on November 19 of 2015 by Senator Charles Schumer (D-NY). The president of the Amalgamated Transit Union AFL-CIO in Washington, D.C., Larry Hanley, said that he hopes these bills will incentivize drivers not to work second jobs during their mandated rest times.
By providing overtime pay, drivers would be more inclined to stay with one company and not moonlight at a second job. Because the drivers would have a financial reason to work at just one company, that company can properly track their rest schedules. When they moonlight it becomes much more difficult, and drivers can basically ignore mandated rest.
Drowsy driving is a serious issue in the United States. According to the National Highway Traffic Safety Administration (NHTSA), approximately 100,000 crashes every year are caused by driver fatigue, resulting in more than 70,000 injuries and 1,500 deaths.
"While the focus of this blog is tour bus operations and driving, it should be noted that a tour bus crash such as this one also involves issues of bus design and crashworthiness, as well as public entity responsibility for the location of poles and their design to minimize damage to a vehicle in a crash," said McClellan Law Firm founding partner Craig McClellan.
If you or a loved one has been injured in a bus crash, contact The McClellan Law Firm today. Visit our website to fill out a free case consultation, or give us a call at (619) 215-1488 to speak with one of our bus accident attorneys.
*photo via NBC newscast
Blog Home